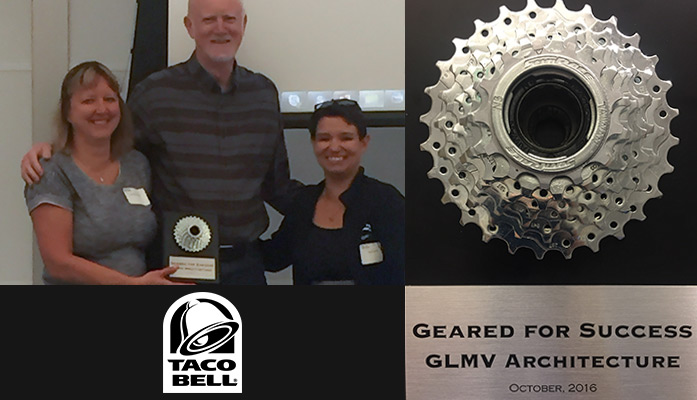 GLMV Restaurant + Hospitality Studio Wins Taco Bell Award
10.18.16 • Candace Wilson • GLMV News, Restaurant + Hospitality
We've got to give some serious kudos to our Restaurant + Hospitality studio.
Our foodservice architects have been presented with the Geared for Success Award from Taco Bell Corporate for leading the way in franchise development and embodying Taco Bell's vision for its National Brand Consultants.
For 27 years, our dedicated foodservice design team, led by Carmen Onken, has remained a steadfast, trusted resource for architectural planning and design in the fast-paced quick-service restaurant (QSR) industry. Our long-term relationship with YUM! Brands is especially significant to us in light of the typically high rate of turnover in QSR design (due to the demanding nature of an ever-changing, time-sensitive environment).
GLMV currently serves as one of Taco Bell's three National Brand Consultants, and has maintained this position since the NBC program was initiated in 2014. For more information on our Restaurant + Hospitality architecture services, check out our foodservice portfolio.