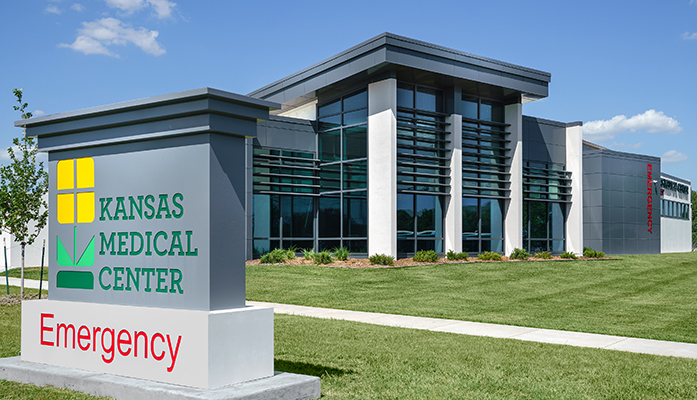 Freestanding Emergency Room Now Open
04.25.18 • Candace Wilson • Healthcare
A brand new facility dedicated to emergency care is now open in Wichita! Inspired by the need to extend emergency medical care to Northeast Wichita, Kansas Medical Center's Freestanding Emergency Department brings emergency care and radiology services. The 10,000-square-foot facility includes ten patient rooms, full-service diagnostics, and a trauma care center. The freestanding emergency features radiology services including CT, laboratory, ultrasound, and other related emergency services.
As the project designer, GLMV worked closely with Kansas Medical Center staff to implement high-end finishes, open spaces, and large amounts of daylighting to create a more hospitality-centered environment. "We spent a lot of time designing the building and our workflows to allow for the best possible patient care," wrote Badr Idbeis, Kansas Medical Center's CEO. "We are very excited to be open and able to see patients."
The design team includes Fred Britain, and Mark McCluggage. To learn more about the Kansas Medical Center's new Freestanding Emergency Department, visit their news post.