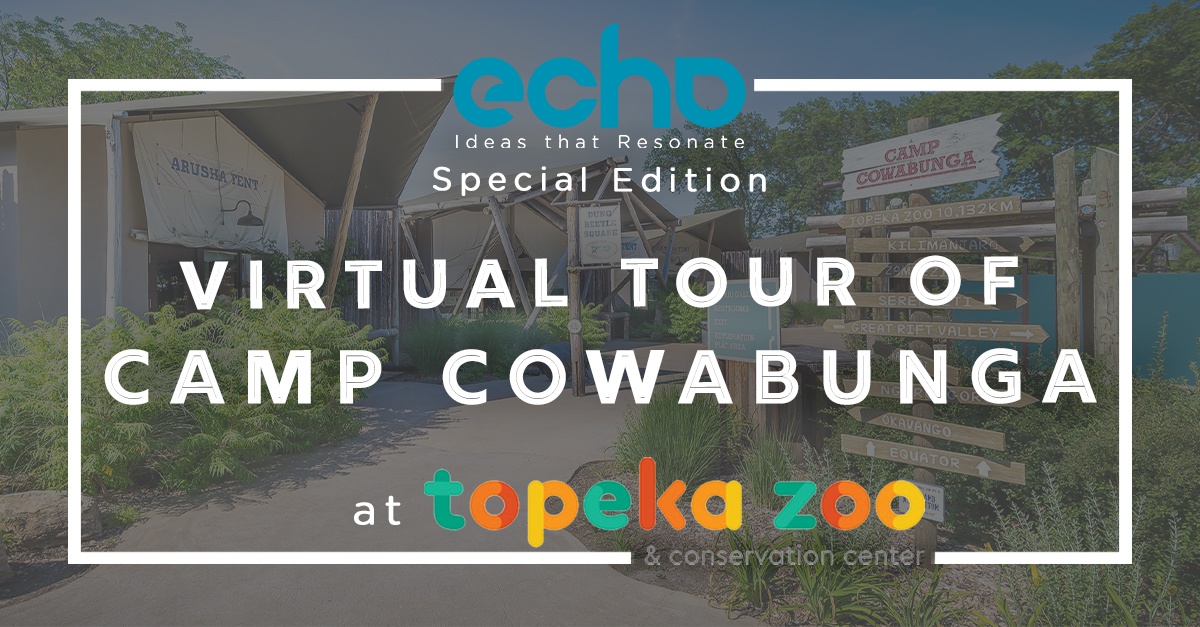 ECHO Digital | Special Edition: Virtual Tour of Camp Cowabunga at Topeka Zoo & Conservation Center
09.28.21 • Taylor Clark • Landscape Architecture, Sustainable Design, Zoos + Aquariums
You're invited on a virtual tour of Camp Cowabunga with Topeka Zoo & Conservation Center director, Brendan Wiley. What began as an idea to create a museum honoring Topeka Zoo's beloved previous director Gary K. Clarke's many African adventures and artifacts became much more than that; it became a unique and immersive experience into the middle of a real safari camp enveloped by African wildlife. Completely surrounded by animals, guests can enjoy a "sundowner" by the campfire, come eye-to-eye with African lions, and adventure with patas monkeys from the front seat of a Land Rover.
Camp Cowabunga was designed by GLMV Zoos with Project Lead Architect and GLMV Zoo Division Lead, Craig Rhodes.
A special thank you to Brendan Wiley and his team at the Topeka Zoo & Conservation Center for producing this virtual tour experience!
Key Features & Innovations:
Authenticity Matters 
All phases of the project were informed and augmented by Gary Clarke's adventures in Africa.  From Dung Beetle Square to WGASA Waterhole, every part of Camp Cowabunga has an authentic story.  Signage was produced, sounds recorded and artifacts sourced in Africa.  The Land Rover even came from a South African junkyard!   
Designed for Animal Welfare 
The animal habitats in Camp Cowabunga are intentionally designed to encourage natural behaviors and enrich animals' lives.  For example, patas monkeys are the fastest ground-dwelling monkey in Africa, so their habitat is long and narrow to provide the monkeys with room to run.  The lion habitat includes a carcass feeding pole and training wall, and a zipline in the African wild dog habitat promotes cooperative feeding behavior.  Still to be fully realized, the patas monkey habitat features an innovative interactive in which monkeys and guests must work together to press the same sequence of buttons on both sides of the Land Rover to release a food reward for the animals.   
Theming was Crucial 
Working with a professional interpretive team elevated the interactive experience, and Brendan affirms they will never again develop an exhibit without one.  Among many, the exhibit features an interpretation station, a lion roar meter, an authentic Land Rover, and a highly customized and unique donor wall.  Though the buildings are traditionally constructed, the walls and ceiling are lined with canvas, and natural wood poles give the impression of being inside a large tent.     
Project Priorities Determined How Dollars Would be Spent 
Camp Cowabunga cost $4.5 million, less than some may expect for the project's scale and scope.  Brendan & Craig credit this to setting clear project priorities upfront and weighing all decisions against these priorities.  The focus was not on how big the project could be, but on how well it could be done.   
Additional Amenities Facilitate Flexibility 
Features such as a catering kitchen and public restrooms allow Camp Cowabunga to be a flexible space, frequently used for events.  In the outdoor Dung Beetle Square, WGASA Waterhole doubles as an interpretation station by day and bar at night and the indoor climate-controlled building with floor to ceiling glass windows giving unobstructed views of African animals creates a unique event environment.