CrossFirst Bank Wins Keeper of the Plains Award
04.30.18 • Candace Wilson • Corporate + Commercial
The Wichita Chamber of Commerce's  Honors Night on Thursday, April 26 brought many victories for our community. The first was our friends from CrossFirst Bank receiving the 2018 Keeper of the Plains award, an architectural achievement that enhances the beauty of Wichita. The next is the 9,000-square-foot expansion of the bank, which was announced on the night of the award celebrations.
As the bank's designer, GLMV was excited to see years of collaboration come to fruition. "The architectural style of the building we call contemporary collegiate gothic, which gives a feeling of permanence and timelessness," states Bill Livingston, our chairman, and architect on this project. Our team is thrilled to continue with the expansion, in order to provide additional space for the bank's growing team and allow for additional banking services in the Wichita area.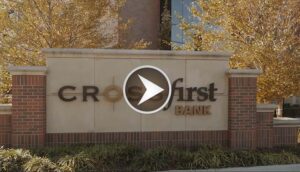 This award exemplifies not just an architectural win for CrossFirst Bank and GLMV, but a win for Wichita! Click here to read more on the CrossFirst Bank expansion, covered by the Wichita Eagle.