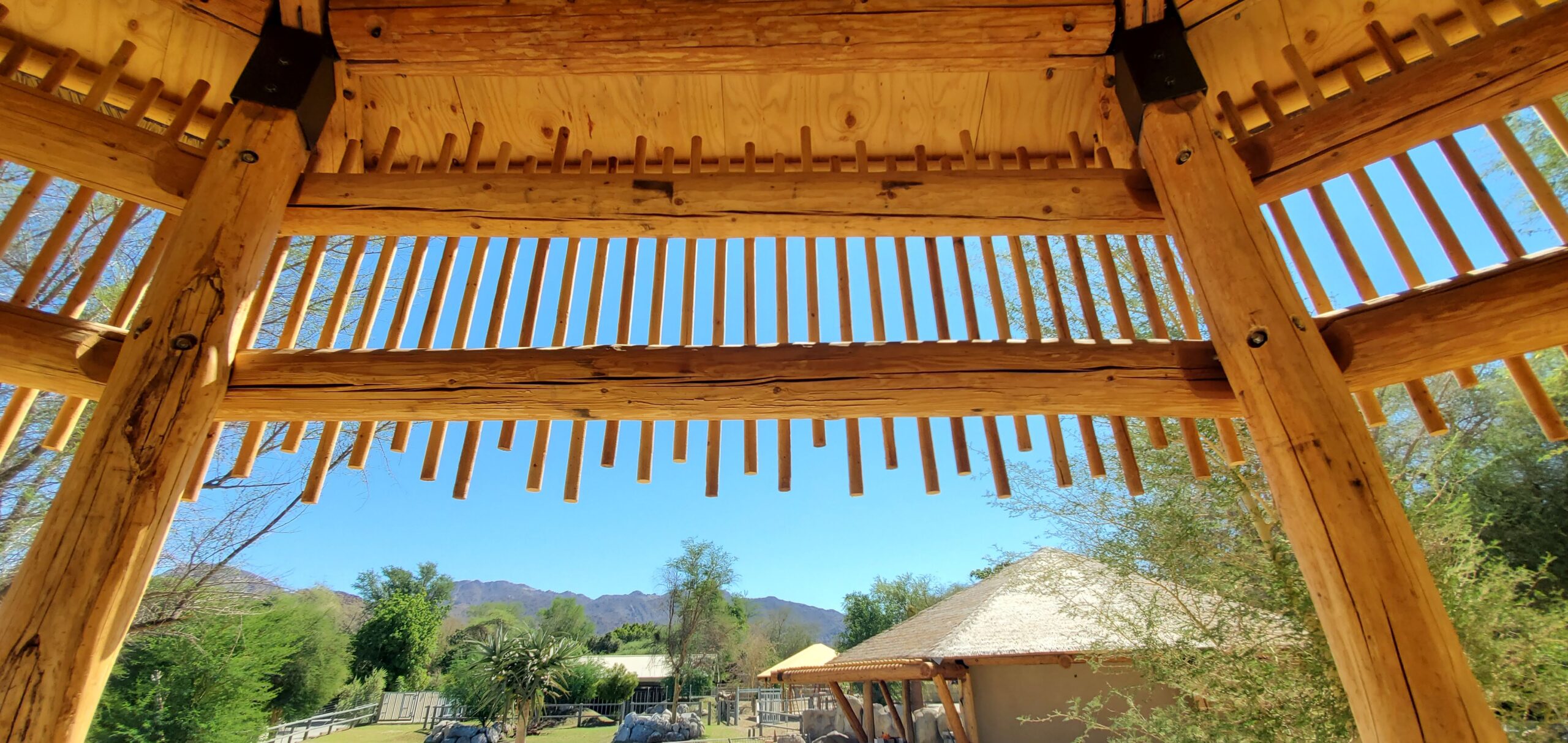 Influencing Systemic Change Through the Supply Chain
01.31.22 • Taylor Clark • ECHO Digital, Zoos + Aquariums
As members of the global community, Zoos & Aquariums are agents of change. By making calculated purchasing decisions, leaders can realize unique opportunities to advance their conservation missions; promoting socially & environmentally responsible practices, exerting pressure on companies & products to improve, and modeling consumer choice as a tool for conservation.
Thank you to Amelia Baxter, co-founder of WholeTrees Structures, for sharing an integrated example of the impact that material choice can have on climate change.
Key Points:
1.Wield Your Purchasing Power Wisely 
From the food served in cafés to the office supplies used in administration and the stuffies sold in gift stores, Zoo & Aquarium staff make purchasing decisions every day.  In the journey towards green and sustainable operations, Amelia recommends that organizations pause to analyze spending and resource allocation.  Through examining categories of spending, Zoos & Aquariums can identify opportunities to make intentional purchasing decisions that embody and advance their conservation missions.  Not only do those purchasing decisions send a message to suppliers, but they can also be used to tell stories that empower guests to make thoughtful decisions in their own lives. Go big or start small; take an overnight program for example. By serving Rainforest Alliance or Bird Friendly certified coffee, choosing breakfast cereals from companies committed to RSPO Certified palm oil, using reusable tableware, and composting the leftovers, budgeted resources are directed towards green practices and industries. When the reason behind these choices is shared with guests, they feel a sense of agency, having just taken four actions that lead to a more sustainable future. Opportunities such as these permeate Zoos & Aquariums. 
2.Zoos & Aquariums Can Shape Markets  
By taking risks and embracing innovative technologies and sustainable practices, Zoos & Aquariums lead the way and influence others to do the same.  When WholeTrees Structures began their journey to rebrand timber, they did not expect to find such a powerful and passionate partner in Zoos & Aquariums.  According to Amelia, "[The Zoo & Aquarium community] has some of the best thinkers around how our decisions in our daily lives as professionals can affect ecosystems, habitats, wildlife, and humans." 
Amelia shared that "It's not just that Zoos were some of our earliest adopters, but….a lot of the innovation we've done has been backed or facilitated by Zoos making the choice that they want to use a supply chain they can tell a story about and believe in. It then allows us to take the things we learn from projects with Zoos to other markets that need a little bit more precedent to feel comfortable.". She says, "I get to see on an annual basis how infrastructure choices actually facilitate shifts in markets. Because Zoos hire [WholeTrees Structures] to do new things, we learn, and we do it for other markets".   
3.Reduce Resource Use by Interrupting the Supply Chain 
With 33% – 35% of total carbon emissions estimated to be from construction (mining/creating material through construction and stopping at use), sustainable material choice is critical in the fight against climate change. Amelia shares that wood is by far one of the smartest ecological choices you can make when building, and WholeTrees Structures aims to bring structural round timber into new construction markets. With round timber, trees are felled, and logs shipped directly to manufacturing centers to produce structures such as beams & columns, pre-engineered trusses, custom-engineered assemblies, or to remain as decorative trees. If not interrupted, the logs continue to be processed; sawed, peeled, and stranded into a variety of end products like plywood, fiberboard, panels, and glue-laminated timber. By intersecting the supply chain earlier, less embodied energy is used, such as transportation, processing, mechanical engineering, additives, adhesives, etc. As Amelia says, "The tree itself did all the engineering. It created out of air, water, and sunlight a magnificent skyscraper we're now bringing into structure".   
Not all organizations are embarking on construction projects that lend themselves to the use of round timber, but other opportunities to interrupt the supply chain exist such as purchasing food for animals and restaurants locally or regionally, composting on site, installing solar panels or purchasing regionally produced green energy, or choosing locally grown plants for landscaping.   
4.Infrastructure Can Tell a Story 
Zoos & Aquariums accredited by the Association of Zoos & Aquariums (AZA) serve more than 200 million annual visitors worldwide and are trusted conservation organizations.  With such reach, Zoos & Aquariums have the potential to change the hearts and minds of more visitors than NFL, NBA, NHL, and MLB annual attendance combined (source: AZA). There are few things with more power to effect change than a meaningful story, and architecture can (quite literally) tell an immersive one.   
WholeTrees Structures aspires to build deeper relationships with key forests to tell true origin stories. As part of Rhino Savannah at the Living Desert Zoo & Gardens they collaborated with Port Blakely, a renewable forest products company based in Seattle, WA. In addition to 150,000 acres of forestland in Washington and Oregon, Port Blakely manages the 10,000-acre Winston Creek Carbon Forest, the Pacific Northwest's largest privately-owned carbon forest project. As a carbon forest, the forest is managed on a 60-year or more rotation, up to 25-years longer than the industry norm. WholeTrees Structures also works with a forest in Wisconsin to harvest black locust, an invasive species that spreads rapidly and outcompetes native species.  When used in projects, it incentivizes the clearing of black locusts and allows native species to rebound.